My Blog
Posts for: October, 2017
By Daniel A. Nyhuis, DMD
October 27, 2017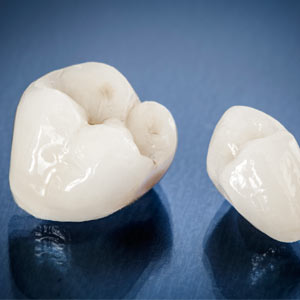 If you're in need of a crown to cover a damaged tooth, you have a lot of options. But before you choose, you need to know what you want. Would you be happy with an affordable, well-fitting crown that holds up well and allows you to chew comfortably? Or are you interested in a more expensive one that also provides the most attractive result?
Crowns have been a mainstay in dentistry for generations. The first were made of metals like gold or silver — durable and effective but not very attractive.
In time, a ceramic material known as dental porcelain began to make its appearance in crowns. Dental porcelain could be fashioned to resemble the color and texture of natural teeth, but it had a significant drawback: it could be brittle and subject to shattering under chewing pressure.
This problem was somewhat addressed with the innovation of a crown with a metal substructure fused with an outer layer of porcelain. These porcelain-fused-to-metal (PFM) crowns combined the best advantages of both materials: strength and life-likeness. Up until around the mid-2000s, PFM made up over 80% of crowns.
But later porcelains continued to improve in strength, beginning in 1993 with the introduction of a Lucite-reinforced material. Newer formulations like lithium disilicate or zirconium oxide (now considered the strongest porcelain) have made all-porcelain crowns a viable option. Today, an estimated 60% of new crowns are all-porcelain.
From an appearance standpoint, all-porcelain crowns achieve the best results. The most realistic crown can be costly — not because of the material but the level of artistry required. A skilled dental technician will spend several hours, including brushing on as many as fifteen coats of liquid porcelain to the crown, to achieve the most life-like outcome. Your insurance plan, if you have one, will most likely not pay as high a percentage for that type of crown.
In the end, it's your decision as to what type of crown you wish to have. We'll help you weigh your options and decide what's best for you and your budget.
If you would like more information on crown options, please contact us or schedule an appointment for a consultation.
By Daniel A. Nyhuis, DMD
October 12, 2017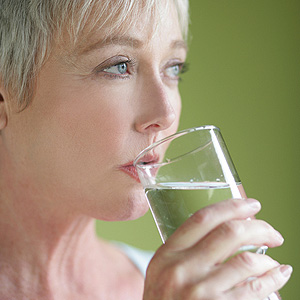 Perhaps you haven't thought of it quite this way, but saliva is one of the true wonders of the human body. This unassuming fluid performs a variety of tasks to aid digestion and help protect your mouth from disease. And you hardly notice it — except when it's not there.
That's the case for millions of people in America who have a chronic condition called xerostomia or "dry mouth." This happens when the salivary glands don't secrete enough saliva, normally two to four pints daily.
Of course, we can experience mouth dryness when we first wake up (saliva flow ebbs while we sleep), feel stressed, use tobacco, or consume alcohol and certain foods like onions or spices. It becomes a problem, though, when periods of low saliva become chronic. Without its preventive capabilities, you'll be at much higher risk for dental diseases like tooth decay or periodontal (gum) disease.
Chronic dry mouth can occur for various reasons: systemic diseases like cancer or autoimmune deficiencies can cause it, as well as radiation or chemotherapy treatments. One of the most common causes, though, is medication, both over-the-counter and prescription. The surgeon general identifies over 500 known drugs that may inhibit saliva production, including some antihistamines, diuretics and antidepressants. It's often why older people who take more medications than younger people suffer more as a population from dry mouth.
Because of its long-term health effects, it's important to try to boost saliva flow. If your mouth is consistently dry, try to drink more fluids during the day. If you suspect your medication, see if your physician can prescribe a different drug. It also helps to drink a little water before and after taking oral medication.
We may also recommend medication or other substances that stimulate saliva or temporarily substitute for it. Xylitol, a natural alcohol sugar that also inhibits bacterial growth, can help relieve dryness. You'll often find it in gums or mints.
Chronic dry mouth is more than a minor irritation — it can lead to more serious conditions. In addition to these tips, be sure to also keep up your regular dental visits and maintain a daily schedule of oral hygiene to prevent dental disease.
If you would like more information on overcoming dry mouth, please contact us or schedule an appointment for a consultation. You can also learn more about this topic by reading the Dear Doctor magazine article "Dry Mouth: Learn about the Causes and Treatment of this Common Problem."