My Blog
Posts for: February, 2018
By Daniel A. Nyhuis, DMD
February 17, 2018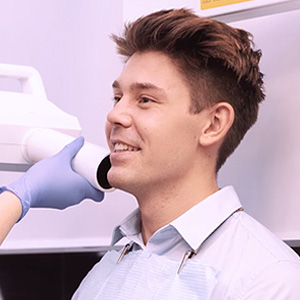 X-rays are such a routine part of dental care that it's easy to overlook how much this technology has revolutionized detecting and treating tooth decay. It's safe to say x-rays have helped save hundreds of millions of teeth over the last hundred years.
Thanks to its unique properties these invisible electro-magnetic waves give us precise images of the interior structure of teeth and gums. It's so precise that we can clearly detect even a small spot of softened, decayed tooth structure on an exposed x-ray film, often before it becomes visible to the naked eye. As a result, we can begin treating the decay earlier, minimizing the damage and increasing the chances for preserving the tooth.
There are a variety of ways we can utilize x-ray technology in diagnosing dental problems. The one, though, that's used the most is called the bitewing. The name comes from wing-like tabs extending out from a thin frame holding a segment of unexposed film. A technician places the frame inside the patient's mouth with the film on the tongue side of the teeth, and has them bite down on the tabs to hold the frame still. They then aim a camera at the patient's outer cheek, which then emits a very short burst of x-ray energy to expose the film.
Bitewings are popular because they give a full view of the back and side teeth, where decay is often hard to detect, with very little radiation exposure to the patient. And as x-ray technology has progressed over the years with digital processing and more efficient equipment, we can acquire sharper images with even less exposure. We've also developed standard protocols for when and how often we perform x-rays, so that we're getting the most diagnostic benefit for the least amount of exposure time.
Those few minutes getting an x-ray may seem routine, but the benefits to your dental health are truly amazing. The bitewing and other forms of x-rays play a huge role in helping us keep your teeth as healthy as they possibly can.
If you would like more information on x-ray diagnostics, please contact us or schedule an appointment for a consultation. You can also learn more about this topic by reading the Dear Doctor magazine article "Bitewing X-Rays."
By Daniel A. Nyhuis, DMD
February 02, 2018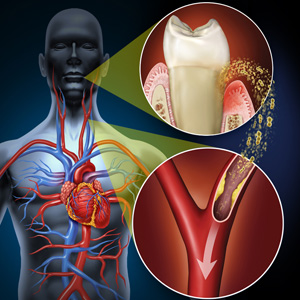 "No man is an island…." So wrote the poet John Donne four centuries ago. And while he meant the unity of humanity, the metaphor could equally apply to the interdependence of the various parts of the human body, including the mouth. According to recent scientific research, your mouth isn't an "island" either.
Much of this research has focused on periodontal (gum) disease, an infection most often caused by bacterial plaque that triggers inflammation in the gum tissues. Although an important part of the body's defenses, if the inflammation becomes chronic it can damage the gums and weaken their attachment to the teeth. Supporting bone may also deteriorate leading eventually to tooth loss.
Avoiding that outcome is good reason alone for treating and controlling gum disease.  But there's another reason—the possible effect the infection may have on the rest of the body, especially if you have one or more systemic health issues. It may be possible for bacteria to enter the bloodstream through the diseased gum tissues to affect other parts of the body or possibly make other inflammatory conditions worse.
One such condition is diabetes, a disease which affects nearly one person in ten. Normally the hormone insulin helps turn dietary sugars into energy for the body's cells. But with diabetes either the body doesn't produce enough insulin or the available insulin can't metabolize sugar effectively. The disease can cause or complicate many other serious health situations.
There appears to be some links between diabetes and gum disease, including that they both fuel chronic inflammation. This may explain why diabetics with uncontrolled gum disease also often have poor blood sugar levels. Conversely, diabetics often have an exaggerated inflammatory response to gum disease bacteria compared to someone without diabetes.
The good news, though, is that bringing systemic diseases like diabetes under control may have a positive effect on the treatment of gum disease. It may also mean that properly treating gum disease could also help you manage not only diabetes, but also other conditions like cardiovascular disease, osteoporosis, or rheumatoid arthritis. Taking care of your teeth and gums may not only bring greater health to your mouth, but to the rest of your body as well.
If you would like more information on treating dental diseases like gum disease, please contact us or schedule an appointment for a consultation. You can also learn more about this topic by reading the Dear Doctor magazine article "Good Oral Health Leads to Better Health Overall."