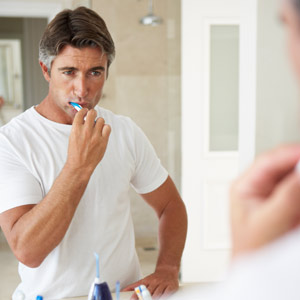 Dental implants are known for their durability as well as life-like beauty. Thanks to their unique construction and ability to integrate with bone, they have a very high success rate and can last for decades.
But while they're less problematic than other restorations, we still can't "set them and forget them." While the implants themselves aren't susceptible to disease, the supporting gums, bone and adjacent teeth are. If you want them to last as long as possible, you'll need to care for them and the rest of your mouth through daily oral hygiene and semi-annual office cleanings.
With that said, there are a few differences in how we perform hygiene tasks with implants. This is due to the way in which they attach to the jaw, as the titanium post is inserted directly into the bone. Natural teeth, on the other hand, are held in place by the periodontal ligament, a strong connective tissue that lies between the teeth and bone. The ligament holds the teeth firmly in place while also allowing minute tooth movement in response to changes in the mouth.
The ligament also has an ample blood supply that assists with fighting infection that may arise in the tooth and its supporting gums. Without this extra source of defense, infections that arise around an implant can grow quickly into a condition known as peri-implantitis and lead to rapid bone loss that could cause the implant to fail.
That's why you and your hygienist must be ever vigilant to the buildup of plaque, the bacterial film that gives rise to dental disease, around implants and adjacent teeth. This includes removing plaque buildup from implant surfaces, although your hygienist will use tools (scalers or curettes) made of plastic or resin rather than traditional metal to avoid scratching the implant's dental material. They'll likewise use nylon or plastic tips with ultrasonic equipment (which uses high vibration to loosen plaque) and lower power settings with water irrigation devices.
Keeping infection at bay with effective hygiene is the number one maintenance goal with dental implants. Doing your part along with your hygienist will help you get the most of this investment in your smile.
If you would like more information on oral hygiene with dental implants, please contact us or schedule an appointment for a consultation. You can also learn more about this topic by reading the Dear Doctor magazine article "Dental Implant Maintenance."